Bantamweight champion Aljamain Sterling has promised to finish his bitter rival Petr Yan in their upcoming grudge match at UFC 273.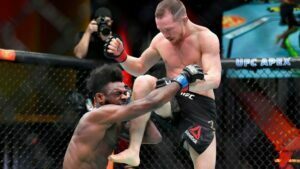 Finally.. the most anticipated rematch between Aljo and Yan is taking place on this Saturday night at UFC 273.
They fought at UFC 259 for the first time, where Petr Yan dominated Aljamain the whole fight but sadly lost the fight by throwing an illegal knee.
Going into the upcoming rematch bout, Petr Yan is considered slightly favored as everyone expects him to dominate the defending champ Aljamain Sterling.
Speaking at UFC 273 press conference, Aljamain Sterling addressed his critics and haters. He said, "I got to make sure I get past this guy first, and I truly believe I'm going to dominate this guy in one round. I'm going to remind the world the last one was just a little hiccup"
"At the end of the day, I'm here to create a legacy, and this is what confidence looks like. Everyone can have an opinion; at the end of the day we are out here doing it. So, it's okay to have an opinion. It doesn't matter what you say or how you feel, it's how we show up and how perform. I'm going to give you guys a great performance and that's it."
No doubt Aljamain Sterling is the most disrespected champ in UFC, and no wonder why he is being disrespected. If he wants to rebuild his image and get some respect, he needs to dominate Petr Yan on Saturday night.
Read – Aljamain Sterling Net Worth