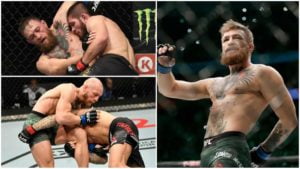 Once again the old Conor is back, we see him trashing everyone coming around him. Speaking to Ariel Helwani Conor McGregor has given his thoughts on Dustin & Khabib shooting on him for early takedowns.
Conor is not a big fan of wrestling or jiu-jitsu he is more of a Boxer type of MMA fighter. He doesn't like the approach of Dustin Poirier's early takedown or Khabib's hardcore wrestling approach.
Speaking to Ariel he criticised Dustin & Khabib for shooting very early in the fight. he also believe they are afraid of his boxing skills.
"He shot in 20 seconds in the first round, 20 seconds in he almost shot fast as the dagestani who shot 15 seconds in the first round." Conor Said
Mcreggor Also Said "So they fight me afraid, they fight afraid, they back away they shell up, they die for tge legs. You know it's i am aware about it now, awareness is what it's about that's it."
Fair enough, we all know how good Conor is in boxing, probably the best boxer in the UFC. even in the second fight with dustin conor was winning it untill poirier comes up with those leg kicks.
Conor Wants Charles Oliveira Next
when asked to Conor about what next for him once he beat Dustin Poirier, He said "Yeah, it's oliveira next, Yeah the dance with the brazilians again. i look forward to it." Said Conor McGregor
So the road seems clear for Conor, get a win over Dustin then get Charles Oliveira the maybe fight Manny or Usman.
Official Prediction From Our Team
Dustin Vs Conor 3
we are picking Conor McGreggor over Dustin Poirier because we dont see any changes coming from Poirier but from McGregor we see lots of adjustments will be coming. So, Conor By Second Round KO.
Burns Vs Thompson
We are picking Burns Over Thompson, no disrespect to Thompson but we have seen him getting KO & if we look at Burns performance he definately have the power of knocking people out. So, Burns By KO in 3rd Or 4th Round.