Former two division champion George St-Pierre has explained his chest tattoo for the first time ever.
Speaking in an interview with Forbes, George St-Pierre said his tattoo explains two sides of him — very rude and very nice. He says his rude side can be seen when he is in octagon for the fight.
GSP pointed out his "GSP Beast Mode" chest tattoo, He said he took inspiration from the animal lion also known as King of the Jungle and king of beasts.
"The tattoo on my chest means that there are two sides to me. I can be very rude and I can be very nice. I like to be rude when I fight."

George St-Pierre
Explaining his other side, He says it's the authenticity which adds value to his brand. He believes staying original than copying someone else has boosted his image throughout his career.
"Authenticity is very important for me. It's something that I always stood for. I've never tried in my career to be someone that I am not—even if it's for promotional purposes."

ADVERTISEMENT - CONTINUE READING BELOW

George St-Pierre
UFC GSP Tattoos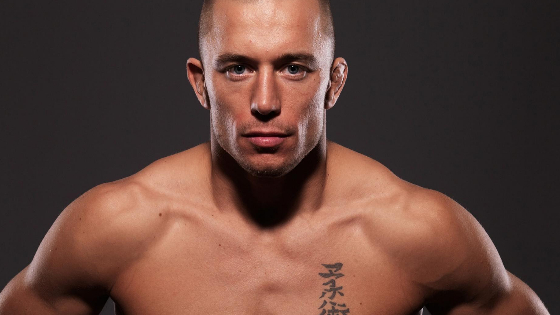 George St-Pierre was last fought in November 2017, Where he defeated Michael Bisping to win middleweight title.
Since the he is been silent and once showed interest in fighting Khabib Nurmagomedov but that fight never took place because of Khabib's disinterest and retirement.
Read: Khabib Nurmagomedov Net Worth