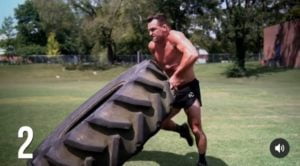 UFC lightweight contender Justin Gaethje & Michael Chandler will be going head to head against each other at UFC 268.
Both fighters are coming from failed attempt of earning lightweight championship strap. Gaethje lost to khabib & Chandler lost to Olievera.
Official training camps have now been started for both of the fighters. Looking into the fighting style of both fighters fans and expect potential UFC's Fight of the year.
A day ago Chandler has released a video of him training in heat. he captioned it as "he who works the hardest rarely get tired"
Its good to see Chandler taking Gaethje's cardio and his pace seriously and accordingly he has started to working on his cardio and pace.
we can assume that Micahel Chandler is expecting a long dog fight with Gaethje. which is good for most of the fans who wants to see great heavy striking fight.
Below is embedded instagram video of Micahel Chandler doing tire workout.
What Next For The Winner Of Chandler Vs Gaethje?
Best thing would be if UFC makes Oleivera Vs Dustin as it is the fight to be made currently and then the winner of Chandler Vs Gaethje should fight for the title.
Once Conor Recover from his leg break injury he should fight Dustin wheather he is champion or not.
Gaethje has given us his thoughts on what he feel about fighting Michael Chandler at UFC 268
In an open conversation with chandler on ESPN program Gaethje said "it's been while since i have fought someone who i actually dont like. yeah it will be fun to punch you in the face" said to chandler.
Chandler also responded by saying "You Know, that will be fun too"
its crazy to see such matchups by UFC, fans around the world likes to see such fights. Ayee you know what UFC 268 is already a big hit.