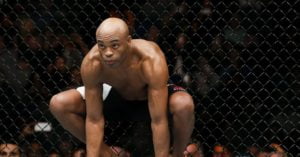 15 Year Ago Today, One Of The Greatest In UFC History Anderson Silva Made His Debute Against fan favorite Chris Leben, at that time Leben was on a six-fight winning streak and it was believed that this would be easy fight for leben to attain his seventh consecutive victory.
#OnThisDay in 2006: The legendary Anderson Silva made his UFC debut… and the rest is history! ????️

???? Watch all over again on @UFCFightPass! pic.twitter.com/rQrG9PcvM4

— UFC Europe (@UFCEurope) June 28, 2021
Andeson Silva's debute is still considered as one of the best debute in UFC history, his striking was sharp, accurate & powerful. he mostly avoided Leben's most of the shots and landed his own. Silva's debute was just a taste of what Silva was going to become.
At that time no one would have thought that this guy will become one of the best of all time. what spider silva has shown us is something that no have ever imagined, his crisp striking, head movement, slick submissions all this cool stuff that silva has shown is simply unforgettable. 
Defending chael sonnen twice, beating Forrest Griffin with ease & that front kick knockout of vitor belfort are among one of the best moments of his career.
Silva Defended his title for 15 times, it is still 2nd highest title defence in UFC history. Losing his title to Chris Weidmen & getting his leg broken in their 2nd fight. after losing the title, silva fought 8 times from which only one he manages to win. 
after such an unfortunate ending of his UFC career he decided to try his hands in the boxing where he fought Julio Cesar Jr.
And what a story it is, silva defeated former middleweight champion Julio Cesar Jr by split decision. Silva overall outclassed Julio Cesar Jr. with all his tactics. he even dropped his hands & taunted chavez jr in third round.
Read - Anderson Silva Net Worth
Vintage. Anderson. Silva.

In his return to the boxing ring, The Spider broke out some of the moves that made him an MMA legend ???? (via @FiteTV) pic.twitter.com/crZwnUYMFj

— ESPN MMA (@espnmma) June 20, 2021