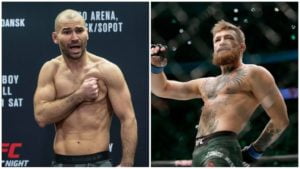 Conor McGregor's Close Friend and Former sparring partner Artem Lobov has given his thoughts on 2nd fight of Conor Vs Dustin.
Artem Lobov Said "Absolutely and to be honest, it wasn't like he wasn't fully focused or anything, he just didn't give dustin respect he deserved. he was more thinking about boxing manny after the fight and was getting ready for that as conor saw that as the challenge and dustin was just going to be warmup fight."
Artem Lobov believed leg kicks played big role in their 2nd fight and also said conor is prepared for this time.
"Obviously, it didn't workout that way dustin did his homework well and improved a lot, to be honest with you, if you look at the second fight,it was developing how the first fight went,that is what i expected, the only things that made difference was the leg kicks"said Artem Lobov.
Artem Lobov Predicts Early Round KO By Notorious
"I see Conor stopping Dustin ealry in this fight, I see Conor stopping Dustin in the first round."Said Artem Lobov
Also as Conor is having his full camp training in Dubai, Lobov will not be able to sparr with him. Lobov is preparing for bare-knuckle boxing match vs. Denys Berinchyk for Mahatch FC.
We all know how their 2nd fight went, conor was winning all of it untill those leg kicks came in from poirier.
Read - Artem Lobov Net Worth
Conor is a smart fighter, he will not do same mistake again but dustin is tough dude too what if he came up with 100% wresting approach to it? like Dariush did against tony.
we all get pissed off when someone against conor starts to wrestle, nothing wrong about that but we are here to watch conor's boxing not his opponents wrestling is the initial feeling from all the fans watching around the world.
In second fight we saw dusting shooting for early round takedown, but conor defended very well but it also gased him out somewhat. considering this fact we can expect dusting will shoot for takedown in early rounds if he wants to survive those early rounds.
Conor has arrived in USA for his trilogy against dustin
The United States Of America ????????
What a country ❤️ pic.twitter.com/iQNqie9GOr

— Conor McGregor (@TheNotoriousMMA) July 4, 2021
share this article if you want conor to finish dustin like below embedded tweet.
— MMA Gone Wild???? (@mmagonewild) July 3, 2021