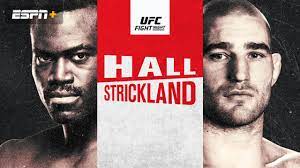 Oh boy, we are back with UFC Predictions & today we have our prediction on UFCs Tonight's Card Hall Vs Strickland.
UFC is delievering another action packed saturday night with middleweight clash in the main event and interesting bantamweight clash between Kang Kyung-ho Vs Rani Yahya.
In the main event we are picking Strickland over uriah hall
let's break it down! uriah hall is a natural striker with 4 fights winning streak but they are not impressing one. his last two fights were against chris weidmen and anderson silva.
To be honest both of them are at the end of their career and they had nothing left in them weidmen broke his leg and silva was just old man having his time in their.
on other hand, We can say Strickland is a more hungry lion. he is a killer and may be better striker than uriah hall, with extra 3 inches reach we can expect Strickland landing more punches to uriah hall.
Final Prediction: Strickland by TKO / KO
Co Main: Kyung Ho Kang vs. Rani Yahya
In the co main event it's Rani Yahya who will be having a strong wrestling advantage but in lighter divisions like bantamweight wrestling does not gives much advantage as we see in more heavy weight classes.
Kyung Ho Kang coming two years of off time from fighting, we believe he excellent scrambles and submissions in his arsenal to stop Rani Yahya's takedown attempts.
Final Prediction: Kyung Ho Kang by decision.
Cheyanne Buys vs. Gloria de Paula
Gloria de Paula having muy-thai background while Cheyanne Buys is striking minded brazilian grappler. So we can assume early fight will be dominated by Gloria de Paula but as the fight progresses we can expect Cheyanne Buys to shine.
Both fighters are coming off on losses, so we can assume both the fighters will be putting in their maximum efforts into this fight.
when it comes to boxing vs grappling we can always bet on grappling but as per our thoughts Gloria de Paula will come prepared to counter the grappling shots of Buys.
Official Prediction: Gloria de Paula by decision