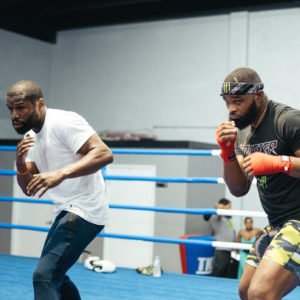 Earlier, in media days of Floyd Mayweather vs. Logan Paul, Mayweather said he wants to train tyron woodley for his fight against jake paul.
"Give me Tyron Woodley, I'm gonna make sure I get in camp and I'm gonna train him for this fight. I want Tyron Woodley to come to Las Vegas and work with us." Mayweather said.
On the same day Tyron Woodley and Jake Paul had media day in the miami. in which talking to reporters Tyron Said
"I just talked to him today. For sure, why would I not train with the greatest boxer of all-time? He's already my dog. We've been talking about training anyways, so for sure, definitely going to take him up on that."
Fast forward to today woodley has seen to training with floyd mayweather, check out the below embedded tweet from T Wood.
????
Bank Robbery in progress. Y'all fucked up! It's stuck now!! @floydmayweather
@gt_the_great_ pic.twitter.com/VYDWJnj9As

— Tyron T-Wood Woodley (@TWooodley) July 1, 2021
Youtuber turned boxer Jake Paul will Face Former 5x UFC's Welterweight champ Tyron Woodley in boxing match on August 28, 2021
Prediction: Who Will Win, Jake Paul vs Tyron Woodley?
Both of them are unexperienced boxers, although Jake paul has fought 3 boxing matches but all of them where non professional boxers.
On other hand tyron woodley has been known for his knockout performance but his recent form was not that good, but it was the wrestling of his last five fighters who defeated him.
when it comes to only boxing, there is no threat of taking down we can assume tyron woodley having advantage over jake paul.
Tyron Woodley by 2nd Round Knockout is final prediction from our team.